Vendors may become ineligible for Business Opportunities for a number of reasons. Once a vendor become ineligible, it is deemed Blacklisted. The eProcurement Portal records and stores records on Blacklisted Vendors, made available to the user.
The Blacklisted Vendors options are presented on the main page: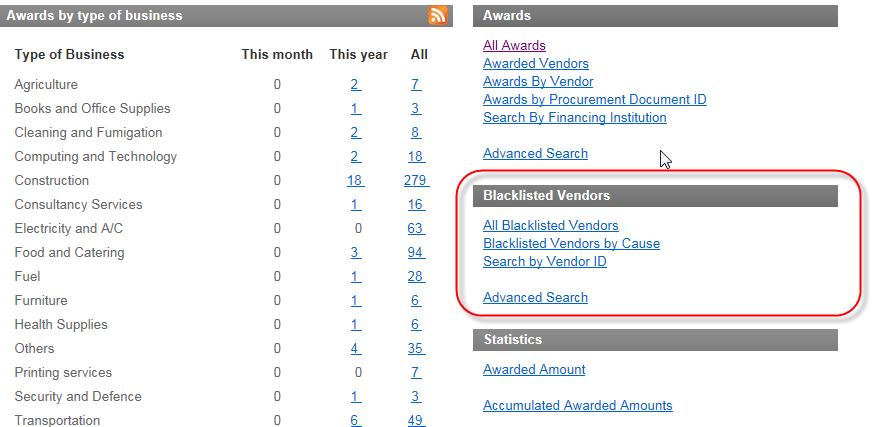 To view a complete list of Blacklisted Vendors, click the All Blacklisted Vendors link. A list of all Blacklisted Vendors is presented:

The list of Blacklisted Vendors are ordered alphabetically.
To toggle pages of available Blacklisted Vendors, use the Page icons.
First: Redirects User to the page with the first vendors alphabetically.
Previous: Redirects User to the page previously viewed.
Page Number: Redirects User to a specific page.
Next: Redirects User to the next page of vendors.
Last: Redirects User to the last page (

ie

. the page with the last vendors alphabetically).
To change the number of Blacklisted Vendors displayed on the page, select a value from the Results Per Page drop-down menu.
Click the headings Vendor Name, Vendor ID, Tax Identification Number, Performance Rating, Quantity of Active Ineligibilities to sort by a particular criteria.
Upon selected a Blacklisted Vendor, a page displaying Vendor details is displayed: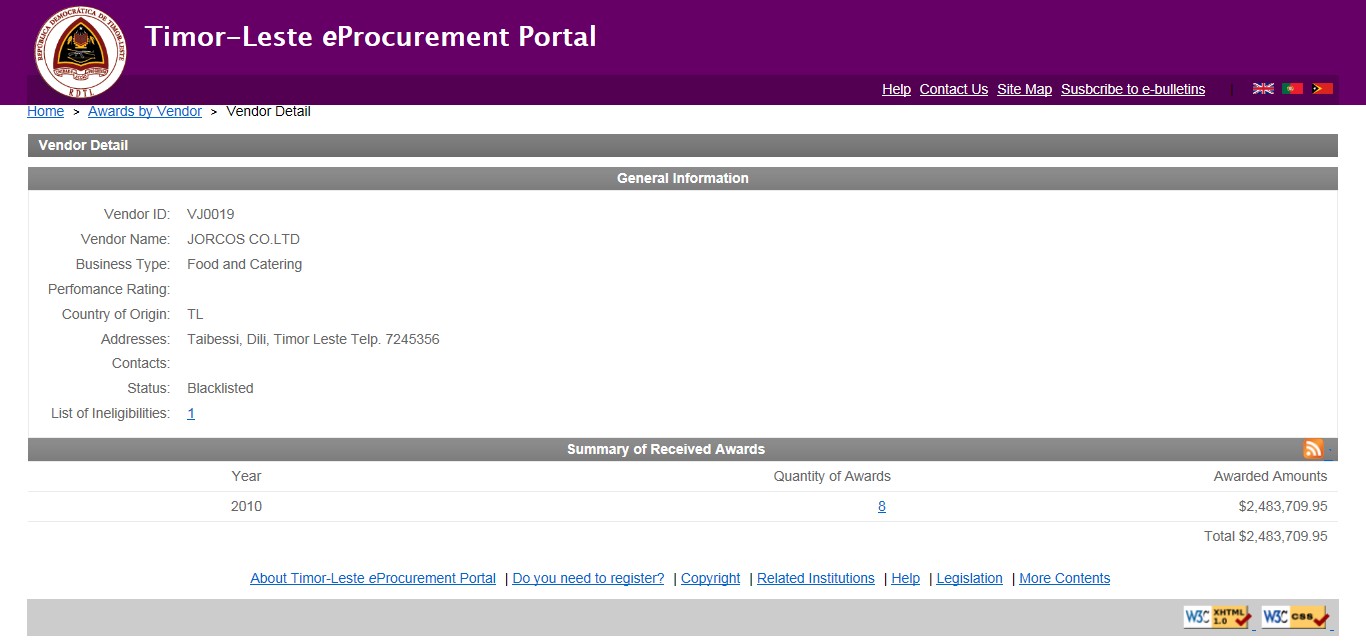 The Vendor information is displayed within the General Information window.
Vendor ID: Vendor unique identification code.
Vendor Name: Name of Vendor.
Tax Identification Number: Tax unique identification number.
Business Type: Vendor activity.
Performance Rating: Vendor rating based on past Procurement performance.
Country of Origin: Country where vendor performs primarilly.
Addresses: Vendor Local Address.
Contacts: Vendor contact information.
Status: Vendor Actual Status (i.e. 'Active', 'blacklisted', etc.)
Inelegibility list: Number of Inelegibilities. Click on numeric link to view inelegibility.
 To view Inelegibility causes, press on numeric link. Inelegibility list is presented:

Select a title Start Date, Inelegibility ID, Cause, Premature Closing Date to list results.
Start Date: Blacklisted vendor start date.
Closing Date: Balcklisted vendor remove date.
ID Inelegibility: A particular Inelegibility identification number. Click on Inelegibility ID number link to view details.
Cause: Reason for blacklisted.
Premature Closing Date: Reasons for earlier remove from list before defined Closing Date.
 Click on icon  

to go back to vendor details page.
 To view Inelegibility details, click on number link ID. The following page will appear:

Inelegibility ID, Vendor Name, Cause, Start and Close Date, Premature Closing Date and Reasons are listed. Additional comments can also be shown.
 Click on icon 

to go back to Inelegibility list.
---